Welcome to
Camp Flaming Arrow

!
---
The YMCA of Greater San Antonio has been serving the community for 144 years. And since 1927, families just like yours have helped shape Camp Flaming Arrow into what it is today—a resident summer camp rich in tradition and centered on positive character values. A place where everyone is welcome. 
Summer 2021 will be no different. However, summer 2021 will be our final Camp season at YMCA Camp Flaming Arrow.
Like every other business and organization, the Y has not been insulated from the impacts of COVID-19 which led us to re-evaluate and rethink how we meet our mission.
Over the past year, we have conducted an extensive evaluation process to determine how best to meet our community's needs. Even after financial support, we have still had to consolidate our operations, modify and even close some underperforming locations, all with a long view of sustainability to ensure our YMCA would be here for another 145 years. 
After careful consideration, our board has agreed to a multifaceted sustainability plan, with phase 1 being the sale of several YMCA assets.
It is not lost on us that for many of you, CFA has been a part of your family for generations and that your children made memories inside the very same cabin you did.
Despite this unprecedented and challenging circumstance, we are committed to remaining fully transparent, honoring Camp's memories and spirit, and providing the best summer ever in 2021.

To read the full letter from YMCA of Greater San Antonio's President and CEO, click HERE.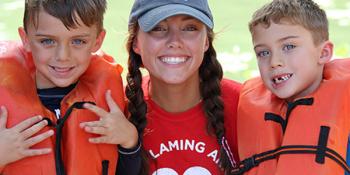 Catch the Spirit of Camp!
Established in 1927, CFA has been serving participants with mission-based programming for over 80 years. The mission of the Y is to put Judeo-Christian principles into practice through programs that build healthy spirit, mind and body for all.
At CFA we're proud to offer you and your family a camp experience enhanced by our mission and values. We pride ourselves on many things: exciting activities, a beautiful location, and passionate staff. However, our true pride is in our core values of Caring, Honesty, Respect, Responsibility, and Faith. Our camping goal is to provide campers a camp experience rich in tradition centered on the five core values, allowing the camper to gain independence and higher self-worth and lifelong memories.