New Braunfels Family YMCA
Hours of Operation
Monday - Friday: 6 am - 8 pm
Saturday: 8 am - 2 pm
Sunday: CLOSED
Child watch hours
Tuesday & Thursday: 5 pm - 7:30 pm
Monday, Wednesday, Friday: CLOSED
Saturday & Sunday: CLOSED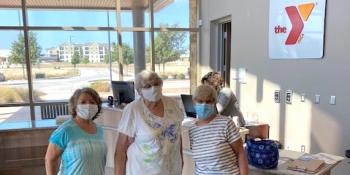 Membership
Our membership is open and available to the entire community, regardless of your age, income, or fitness level. We offer state-of-the-art facilities, outstanding programs and unique services for people of all ages.
HELP BUILD A BETTER US!
When you join the New Braunfels Family YMCA, you belong to a place where: parents find a safe, positive environment for children; families come together and spend quality time with each other; children and teens learn what they can achieve; adults connect with friends and learn how to live healthier lives; communities thrive because neighbors support each other and give back; and we all build relationships that further our sense of belonging.
What's Happening at the New Braunfels Family Y
---
Virtual Tour
Future New Braunfels YMCA Location
For 14 years, we served the New Braunfels community before transitioning to a Y "without walls" in 2018, but without a physical building.
Over the past year and a half, we have developed a plan that allows us to sustainably serve the greater New Braunfels community for years to come.
The 22,102 square foot facility offers two group exercise rooms, a wellness floor, a Child Watch area—a safe and engaging area for parents to leave their child while accessing the facility—spacious locker rooms, an indoor lap pool, and an indoor therapy pool. 
This partnership will continue to provide the New Braunfels community with convenient access to clinical services such as physical and aqua therapy with HealthLink Physical Therapy.  
Our intention has always been to serve the New Braunfels community through each of our three focus areas, healthy living, youth development, and social responsibility. We are grateful to have a new home in New Braunfels. 
Tenet Healthcare shares our commitment to health equity. This collaborative agreement allows us to expand our reach and continue focusing on community-integrated wellness, including Y Diabetes Prevention, Blood Pressure Self-Monitoring, Y Weight Loss, Nutrition Education, and Mental Wellness. 
We invite you to join the Y today to receive complimentary access to our other 11 branches until we open the New Braunfels Family YMCA. Joining today means we would waive your joining fee, and you would not owe your first month's membership dues until September.
If you have any questions regarding general or corporate membership, please reach out to Elsa Guerra Williams, Director of Membership and Engagement for the YMCA of Greater San Antonio, at [email protected]. 
Thank you.