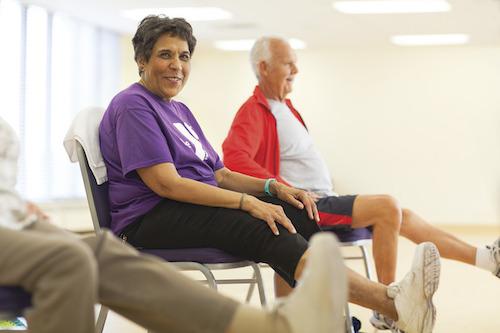 ACTIVE OLDER ADULTS

Active Older Adults at the Y- The YMCA of Greater San Antonio offers our active older adults an opportunity to increase their physical activity, enjoy social interaction, and learn healthy lifestyle skills. Active Older Adults programs include water exercise, day trips, gentle yoga and more.
Silver Sneakers Participants- Silver Sneakers allows our older adults to take charge of their health by participating in physical activities. Classes offer our seniors low impact and joint friendly sessions involving cardio, flexibility, strength training, and coordination exercises. Lightweights, elastic tubing, and stability balls are incorporated with an opportunity for modification based on ability. Classes are FREE for members.


Note: Some insurance providers will cover a Senior's monthly membership fees as a preventative health benefit. Consult your provider to find out if you qualify. To learn more about the various health plans available to you, please visit the  Welcome Center. 
---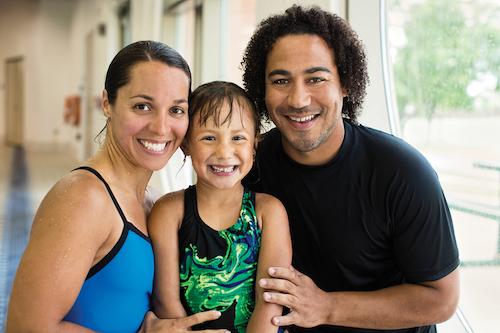 FAMILY EVENTS
The Y has always been a place where families come together to have a good time; participate in a variety of fun activities; share, communicate and strengthen their relationships; and meet other families. Family Events are usually scheduled for a weekend evening and can be either structured or free-flowing. Activities include mixers, games, arts and crafts, family fitness, games, volunteer opportunities and family discussions over refreshments. Example events include Fall Festivals, Cookies with Santa, Healthy Kids' Day and more! 
For announcements on upcoming family events, follow us on Facebook OR sign up for our newsletter.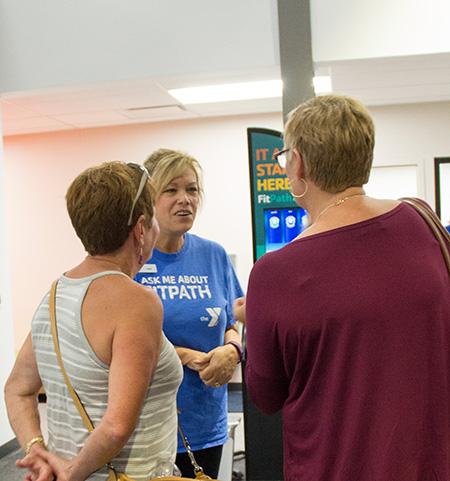 FitPath powered by ActivTrax
WHAT IT IS
FitPath is a FREE program for all Y members designed to help you reach your wellness goals. On your initial appointment, a YMCA Wellness Coach will discuss your goals, review all the options available to you, set up your ActivTrax profile and help create a program that's right for you. Follow up appointments will be available to help ensure you stay on track and are achieving your goals.
---
WHAT IT'S NOT
FitPath is not a high-pressure sales pitch for personal training or a medical appointment where you'll be poked and prodded. You don't have to worry about being uncomfortable or embarrassed; you won't be asked to do anything you don't want to do.
---
WHO SHOULD ATTEND
Everyone! Whether you're new to exercise or in tip-top shape, FitPath is designed to help everyone, whatever your goals, exercise or activity preferences may be. Whether you want to lift weights, take classes, swim, play sports or have some other interests in mind, we want to make sure we do our part in helping you get started on the right path.
---
WHY IT'S IMPORTANT
Members who meet with a Wellness Coach within their first two weeks of joining are 6X more likely to achieve their goals. Let's make sure you're one of them!
The Y is the starting point for many youth to learn about becoming and staying active, and developing healthy habits they'll carry with them throughout their lives. The benefits gained through early exposure to fitness are far greater than just physical health.
---
HOW DO I SCHEDULE AN APPOINTMENT?
If you are already a member simply schedule a time for an orientation and a staff person will walk you through the proper use of the equipment. Once registered, you will be on your way to monitoring your workouts!
  READY, SET, HERE WE GO!
 Come ready to your appointment prepared to exercise! Get a  good night's sleep, wear comfortable clothing and closed-toe  shoes. 
---
 WHAT YOU SHOULD EXPECT
  Your one-on-one appointment will include:
Us learning a bit about you

Establishing short, medium & long-term goals

An introduction to our online nutrition tool

An overview of how to use our ActivTrax system

Developing a customized and easy-to-follow plan
---
BUT WAIT... THERE'S MORE
1-Week Guest Pass Upon completing your FIRST appointment, we'll provide you with a week-long guest pass for you to share with a guest visiting from out of town, friends or family–no strings attached.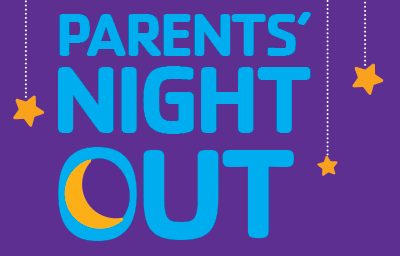 TIME TO UNWIND
Parent's Night Out is a break for both the child and parent.
Enjoy a night out on the town while the kids (ages 6weeks - 12yrs) enjoy an evening filled with age-appropriate activities at the YMCA! This program is offered various Fridays of the month.
Please visit the Welcome Center if you have any questions or would like to register!  
FOR ANNOUNCEMENTS ON UPCOMING PARENTS' NIGHT OUTS, FOLLOW US ON FACEBOOK OR SIGN UP FOR OUR NEWSLETTER.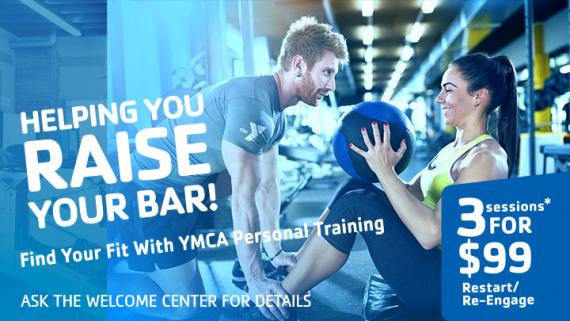 Helping you reach your goals
Whether you're a first-timer embarking on your journey to a healthier lifestyle, or an athlete looking to reach your next fitness goal, the YMCA's personal trainers can help you get there. Transform your workout regimen through workouts tailored to your needs, our personal trainers are here to help you:
Rev up a stale exercise routine with fresh approaches to your workout

Break out of your fitness plateau - challenge yourself

Reduce the risk of injury by learning proper techniques

Stay motivated and committed to your exercise program
---
We offer the following packages at all Y locations.
Tailored training on a budget – We have the package for you!

30 Minute

 6 Pack

12 Pack

24 Pack

36 Pack


1 Hour

 6 Pack

12 Pack

24 Pack

36 Pack

For pricing please contact the Welcome Center at (210) 433-6391
Payment plans and financial assistance (up to 30%) are available with all packages.
* 3 sessions for $99 limited to one package per member NEW to personal training.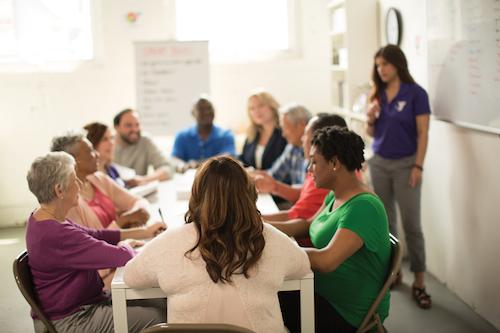 Y Living Program
The Y Living Program is a FREE program that empowers adults and families to obtain total health through enriching the spirit, mind, and body. Participants will learn techniques to prevent or manage chronic illnesses that result from obesity and sedentary lifestyle.
The Y Living Program meets twice a week for 2 hours, which includes an hour of education and an hour of physical activity. Participants will earn incentives during the program while they are ACTIVE in the program.
12 week holistic wellness program that will meet twice a week
After completion, your journey continues with our Chrsitian Emphesis Programs.
Topics Include:

Nutrition 

Menu Budgeting

Stress Management,

Spiritual Engagement
Incentives include a Shopping Tour and Family Outing.
For more information please email Ivan at

[email protected]

.


YMCA Texas Youth and Government is a statewide, youth led, civic engagement program for high school and middle school students. It is an exciting hands-on experience in the mechanics of the state legislative and judicial process of government along with print and broadcast media.
MISSION 
To help teenagers become responsible citizens and future leaders of our nation. 
GOAL 
To create an environment in which students can increase their political awareness and understanding, while learning the meaning of social action through an actual experience in government. 
OVERVIEW 
YMCA Texas Youth & Government means many different things to many different people. Some see it as a way to help young people learn about the workings of state, national and international governments. Others think that it is an excellent forum for students to explore the concerns, opportunities and diverse perspectives that touch our world. Many underscore the experiential learning opportunities the program offers. All of these aspects combine to make YMCA Texas Youth & Government a truly remarkable educational experience. Ultimately, YMCA Texas Youth & Government programs help mold character in students with a strong focus on leadership development and civic engagement. 
YMCA Youth & Government is a national YMCA program, active in approximately 36 states. The first Youth and Government program took place in 1936 in New York – Texas Program began in 1946. Today, nearly 25,000 students annually take part in state Youth & Government conferences, nationwide (including Model State Government and Model United Nations conferences), with 3,300 adult volunteers and YMCA staff serving as adult advisors. Many of these advisors were involved throughout their high school career and return as adults to help "give back" to a new generation of youth leaders.

Youth delegates will:
Study and debate public issues
Experience the Judicial branch of our state government
Write a legislative bill
Participate in a Youth Legislature
Produce the State Y&G news broadcast
Edit the State Y&G newspaper
Students across the state of Texas participate in their local District Conference in Austin, TX in November and culminate the experience in a four-day State conference in late January again in Austin, Texas.
 
For more information on how you can get involved, please call 210-433-6391.