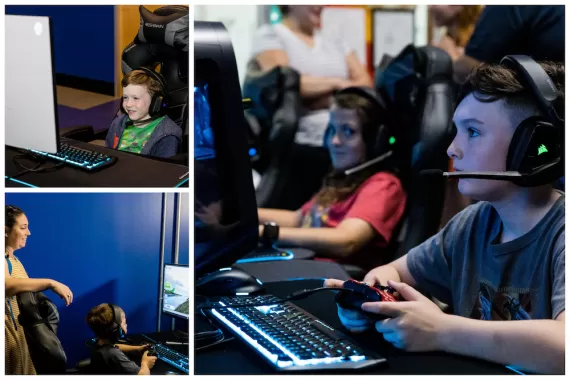 The Y's Tech Hub is a new state-of-the-art space, and a new member benefit providing free access to any YMCA of Greater San Antonio member. 

The Egaming Center at our D.R. Semmes YMCA  is open Monday- Friday, from 3 pm to 9 pm.
Meet like-minded gamers and develop your skills today. 

Team play is where teams are formed to compete in area leagues, and League play allows youth to compete against other Ys in the area.
• Online & In-Person Gaming Leagues
• Off Season Community Events
• Y Member Discounts
• All Skill Levels Welcomed
• Multiple Age Divisions
• Inclusive to Everyone
PS4 = Playstation 4 | PS5 = Playstation 5 
XBX = Xbox X | XBSX = Xbox Series X 
PC = Personal Computer
Cross Platform = The game is accessible to connect gamers regardless of whether they are on PC, PS or XB.
---
The Egaming program is led by Chris Saenz, YMCA's Esports Director and CEO of Texas Gaming Empire. He is passionate about pioneering innovative esports events that build life skills, increase educational opportunities, and give hands-on experiences in the esports industry. He has focused on building local level sports on the College and High School level, giving kids hands-on education& experiences through internships, and connecting them to Colleges for higher education and scholarship opportunities.