Cibolo Family YMCA
Child Watch Hours:
Monday - Friday:      8:15am - 12:00pm
Monday-Thursday:   4:00pm-7:30pm
Saturday:                 9:00am - 12:00pm
Kidz Club Hours:
Monday-Thursday:   4:00pm-7:30pm
Saturday: 9:00am-12:00pm
Same morning hours as Childwatch on any SCUCISD holiday
 
Holiday Hours:
Good Friday: Open regular hours
Easter: CLOSED
Memorial Day: 7am - 1pm
Independence Day: CLOSED
Labor Day: 7am - 1pm
Thanksgiving Day: CLOSED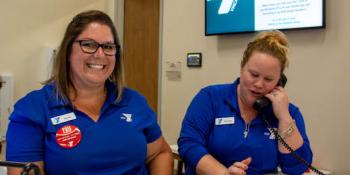 Membership
Our membership is open and available to the entire community, regardless of your age, income, or fitness level. We offer state-of-the-art facilities, outstanding programs and unique services for people of all ages.
HELP BUILD A BETTER US!
When you join the Cibolo Family YMCA, you belong to a place where: parents find a safe, positive environment for children; families come together and spend quality time with each other; children and teens learn what they can achieve; adults connect with friends and learn how to live healthier lives; communities thrive because neighbors support each other and give back; and we all build relationships that further our sense of belonging.
What's Happening at the Cibolo Family YMCA