YMCA Roberts Ranch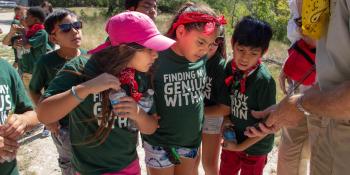 Roberts Ranch Purpose Statement:
Provide a sustainable natural Hill Country Area for the education and enjoyment for all.
In the late 1990s, Roberts Ranch was generously donated to the Y by the late Bob Roberts of Comfort Texas Mr. Roberts envisioned the ranch to be a place where families and children could gather to explore the outdoors in a beautiful Hill Country setting. The pristine habitat, native plants, and wildlife make the ranch the perfect laboratory for learning about and exploring nature.

For years, the property has served hundreds of children through an outdoor education program sponsored by Texas Parks and Wildlife. Now, the YMCA is hoping to greatly increase the number of children and families served at the ranch through new programming intended to fulfill Mr. Roberts' vision. Potential programs that may be offered at the ranch include conservation and stewardship workshops, hiking, tours, and environmental education field trips for youth.
What's Happening at the Ranch!